Wet Room / Walk-in Shower
Linear Wet-Floor – The best Wet Room solution available today
Linear Wet-Floor Solutions. - Level Access System - Wet Rooms for showers - as used by major house builders, National Fitness Centres, and Government Institutions. Can be used with large tiles, without any awkward cutting to form the gradients.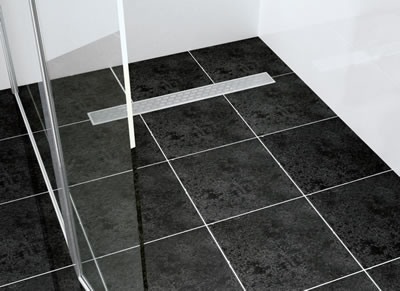 Showers in the bathrooms are now commonplace and a new style of open showering known as walk-in showers and also wet rooms are becoming ever more popular.
If you are considering a Wet Room please read on.

The principles of the Wet Room / Wet-Floor are actually quite simple,
A better understanding of these principles can be acheived by watching the 11 minute installation video. View Video
The installation of a Wet Room consists of the following steps.
Comprehensive floor preparation will be required.
The shower valve and associated plumbing is completed.
A cut out is made in the floor and a Linear Wet-Deck panel with drainage tray is inserted onto the floor joists and level with the floorboards.
The waste water pipework is connected to the trap fitted on bottom of the drainage tray.
The whole area is then sealed using the supplied materials to completely seal the walls and floor.
The area can then be tiled.
A stainless steel waste grid adds the finishing touch.
A specialist contractor is advised for for the installation of wet rooms.

The advantages of the Linear Wet-Floor system.
No need for Mosaic tiles.
Suitable for larger tiles.
No need for diagonal cuts when using larger tiles.
No need to raise the floor height. (gives complete level access)
Suits any joist configurations as the preformed shower deck can be cut down, the trap is cut into the linear drain at any position avoiding the joists.
Install up to 3 traps in this unique multi-directional fast flow waste system.
Max flow rate 24 litres per min using 1 trap, and 40mm pipe, up to 60 litres per minute using 3 traps.
Top access traps for easy cleaning and maintenance.
Easy to install.
Tile within hours of installation.
Lower Labour costs.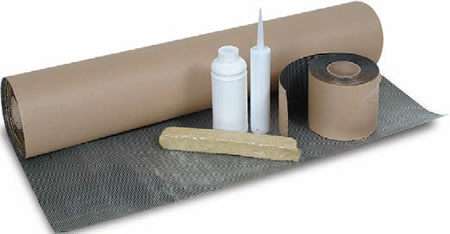 Tilesafe® Waterproofing system
Tilesafe® is a heavy duty Cold applied self-adhesive membrane, consisting of a thick rubber modified bitumen waterproof layer, incorporating a woven glass fibre mesh on one face. The Tilesafe® membrane system has been developed to provide a waterproof layer beneath ceramic, porcelain, granite, marble and slate tiles.
RIW Tilesafe® waterproofing membrane is suitable for all wet floor applications.
Flexible and easy to install.
Installation is complete within hours.
Start tiling immediately.
Benefits of Tilesafe®
No more water damage from commissioning leaks, shrinkage, grout failure or general misuse.
Unlike other tile waterproofing systems, Tilesafe® is flexible and the installation is complete within hours.
Tilesafe® comes in a kit, with everything you need to cover an area of 5m2 or 10m2.

The installation pack contains.
Tilesafe® primer, reinforcing tape, jointing compound & putty. (Extra parts can be purchased separately)
Devimat® has been tested to work with Tilesafe®.
GUARANTEE: life time of the floor tiles.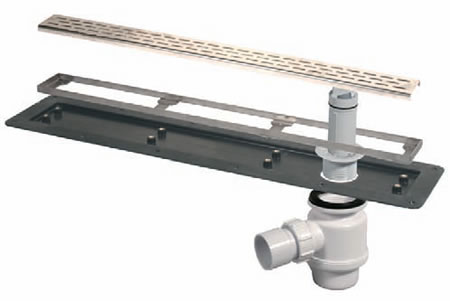 24Lt Max flow rate per minute using 1 trap with a 40mm waste pipe.
40Lt Max flow rate per minute using 2 traps with a 40mm waste pipe.
60Lt Max flow rate per minute using 3 traps with a 40mm waste pipe.
Universal for any type of joist configuration.
The trap is not pre-installed so you can decide where best to site avoiding joists or obstructions.
Traps are accessible for easy cleaning & maintenance.
N.B. one trap supplied with each kit, additional traps available to order.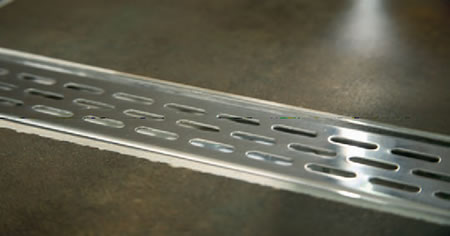 316 Marine Stainless Steel linear shower drain
No diagonal cuts required when fitting larger tiles
Can be removed for cleaning and access to traps
Adjustable height to suit any tile thickness
Advice on ordering a Wet Room kit
Deck sizes available




Length
Width
Waste Slot Position
Kit 1
-
900
x
900
end
Kit 2
-
1200
x
900
centre
Kit 3
-
1200
x
900
end
Kit 4
-
1500
x
900
end
Kit 5
-
1800
x
900
end
Kit 6
-
1800
x
900
centre
Wet Room - Size of deck to order
Always order the longest Linear Wet-Deck that your Bath-Shower Room can accommodate, the longer the deck the bigger the fall area (A), water that goes beyond area (A) into area (B) may create puddles, it is better to create a larger area (A) and reduce the area (B). See diagram opposite.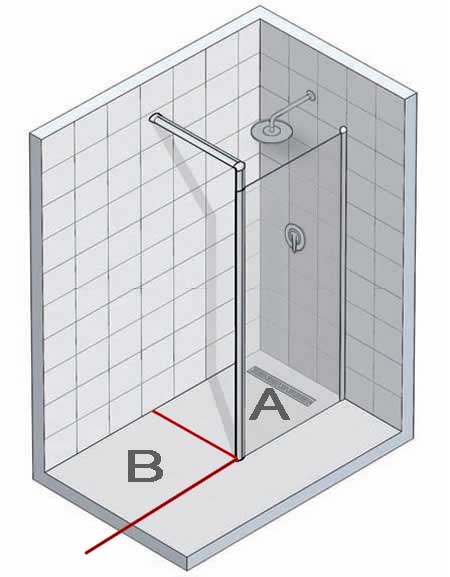 Wet Room - Size of glass screen to order
Keep as much water in area (A), glass length ideally should be the same or longer than area (A), the longer the better.
Wet Room - Type of shower to install
Any type of shower can be used in a wet room, always use a shower that you can direct the flow from the shower head directly on the linear drain, the linear drain can cope with high volumes of water, body jets should be carefully positioned. Always check the flow rate of your shower, and compare it with the flow rate of the Linear Drain System (above).

Please contact us for more info