Made in Britain - Made to Last
As a British family run business with over 100 years' experience producing bathroom products, April products have unrivalled experience within the industry, establishing it as one of the UK's premier shower enclosure brands. April showers are built to last, combining high quality materials, stylish looks and an exacting design and manufacturing process to produce showers that are consistently exceptional and long lasting. The company's success is built upon meticulous attention to detail at all stages of the design and manufacturing process. Careful consideration of style, functionality and high quality design set April showers apart from their competitors.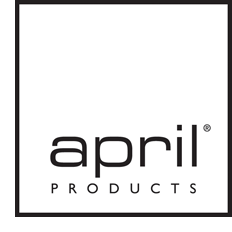 Designed for easy installation
April showers are not only designed to provide superior satisfaction for customers, they also ensure that installers are at the forefront of their consideration when designing their products. April prides itself on its exceptional service to installers with the stated ambition to be the number one choice for all installers.

Highly innovative design features such as easy clip on cover strips, pre-fitted rollers and easy fit fixed panel seals all speed up installation times. Pre-fitted u gaskets replace the need for a gasket seal, allowing the glass to push into grooves in the profiles, yet another time saving feature.

As well as the added value put into the design process, April also provides dedicated technical advisers to provide telephone diagnostics, field engineers available for onsite visits and comprehensive user friendly installer instructions.
Clean & Clear Protection for you shower
With consideration for total customer satisfaction, April Showers have applied the highly innovative Clean & Clear glass treatment to all their shower enclosures (except the Destini range) as standard, eliminating the hassle of cleaning your shower with harsh chemicals and hours of scrubbing.

Clean & Clear acts as a protective barrier on the glass of your shower by creating a 'non-stick' surface, resisting the build-up of lime scale and grime on your shower, keeping your shower hygienic and pristine for the entirety of its life.
Lifetime Guarantee
April shower enclosures are designed with the highest quality products and manufacturing procedures to ensure they stand the test of time. All products are rigorously tested to ensure they meet the stringent industry standards.

Due to their commitment to quality April showers are happy to provide a lifetime guarantee for all their enclosures when they are installed with one of their April trays.
Our Range of April Showers
Here at Midland Bathroom Distributors we are proud to stock a wide range of April shower enclosures and products, please take a look for yourself in the April Showers section of our website.

If you need assistance or any more information then please do get in touch at 0121 603 832, we will be more than happy to help you find the ideal solution for your bathroom.