The bathroom is the hub of the house. It is the room that starts your day and the room that sends you off to bed. The bathroom sees many visitors and its facilities are perhaps the most used appliances in the whole house. It is a place to relax and unwind, a place to gather your thoughts, and a place to have great ideas - just ask Archimedes. It is a place to wash, to pamper, to sing and to enjoy. That's why at MBD Bathrooms, we've made it our life's work to help you make your bathroom into the room it deserves to be.
For a perfect bathroom, the journey doesn't stop at toilets, sinks and showers. We understand that to truly get a wonderful bathroom atmosphere, you've got to make sure that you have a functional and complementary set of bathroom accessories that can make the most of what is often the smallest room in the house. Lighting is especially important, and we can offer an incredible selection of bathroom mirrors with lights that can help to create ambience and bounce light around the room. With a carefully placed mirror and the use of reflective surfaces such as chrome, even the pokiest of rooms can open up and be made to feel spacious and welcoming.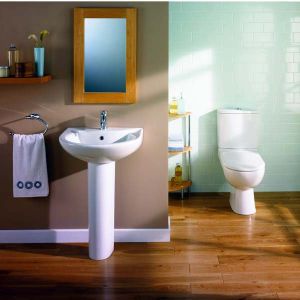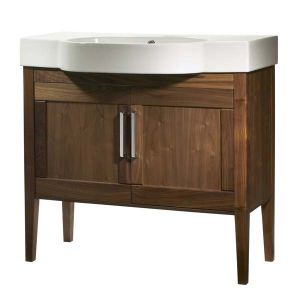 We also offer a range of furniture that can help to complete a bathroom; mirrored cabinets with lights are an attractive and incredibly useful addition to a bathroom, as they combine the benefits of a lit mirror with practical storage space. These come in a variety of styles to suit all bathroom applications. We also have a range of bathroom furniture from Roper Rhodes that can add a fashionable Victorian-style finish to any bathroom.
Thanks to our huge range of bathroom products, MBD Bathrooms can provide solutions whatever the size and scale of your bathroom. Whether you want your new bathroom to be a small but relaxing space, or you have the room to consider the spacious luxuries of a steam cabin or wet room – we can help. From the ground up, we can supply bathroom flooring and bathroom wall panels that ensure that your bathroom is completely sealed and completely stunning. Taps, toilet seats and other fittings are equally as important to the overall bathroom atmosphere as a bath or shower, and our everlasting emphasis on quality extends to even the smallest of bathroom items.
We have many years of experience in bathroom trading that translates into cheaper prices on top-quality products for our customers. Take a look around our site today and see for yourself the enormous choice on offer – we have everything you need to turn that boring, ageing, characterless bathroom into a haven of relaxation that reflects your own tastes and personality. Your bathroom deserves bathroom quality.
History of the Bathroom - Baths and Bathing
The Bathroom, in the widest sense of the word, has its roots in the communal baths of ancient culture. It was the Romans who made public bathing famous, but the practice actually dates back as far as 3000 B.C. At this time, water was seen as having sacred purifying properties – a dip in the bath was seen as being primarily a way of cleansing your soul, rather than cleaning the dirt from behind your ears!

This style of mass-bathing took place in a large pool, much like a modern swimming pool. Throughout Greece, palaces have been discovered that were dedicated to bathing, and the Romans took bathing to the next level with their purpose-built thermal baths, of which there would have been hundreds.

At this point, private bathing as a concept existed in the form of large baths within a home which, although 'private' in the sense that the public were not permitted to bathe, still catered for entire households at a time – certainly not in keeping with today's expectations of privacy. The first one-person bathtub, however, appeared as far back as 1700 B.C., and the incredible thing about this early tub is how closely it resembles our own in terms of plumbing and design. Hey, If it ain't broke, why fix it?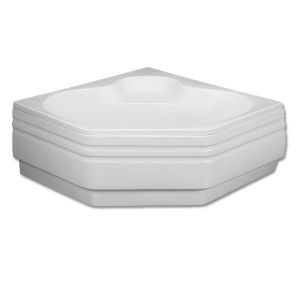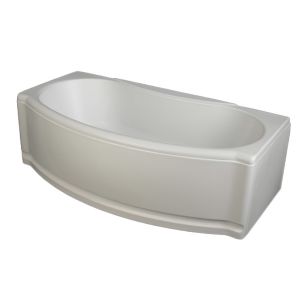 Conventional wisdom dictates that as the Roman Empire gradually gave way to the Middle Ages, habitual bathing was thrown by the wayside along with all the classical traditions of the Greeks and Romans. This is not strictly true; soap production began in earnest in the middle ages. Soap must have been produced in large quantities for a reason, and that reason was almost certainly regular bathing amongst the medieval peoples.

Bathing did eventually become unpopular after the renaissance era. Scientific advances and hard-learned lessons led people to be suspicious of water as a potential carrier of disease. Rather than risk illness, people were more likely to cover up their pungent bodily smells with musky perfume – or indulge in a sweat bath, which is perhaps not the best way to deal with body odour.

Up to this point, when bathing did occur it was often still in public baths. Throughout the 16th, 17th and 18th centuries, the popularity of public bathing declined slowly until in the 19th Century, private bathrooms became the norm. This was due to a reorganisation and reclassification of the rooms in a house and the discovery of germs bringing mass hygiene-related panic. By the end of the century, the tendency for ugly, functional, wooden bathroom items was replaced with a trend for porcelain and tiled patterns. The era of the modern bathroom had begun.
We have many years of experience in bathroom trading that translates into cheaper prices on top-quality products for our customers. Take a look around our site today and see for yourself the enormous choice on offer – we have everything you need to turn that boring, ageing, characterless bathroom into a haven of relaxation that reflects your own tastes and personality. Your bathroom deserves bathroom quality.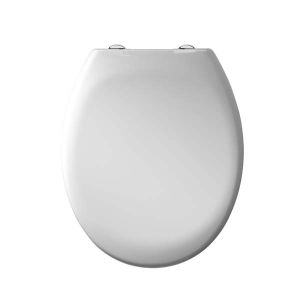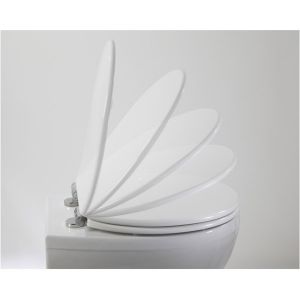 Toilet Seats - Slow Close/Soft Close Seats
Life is all about enjoying the little luxuries it throws at you – a lie in, a cup of tea, a day off work. Why not extend this philosophy to your bathroom and invest in a brand new toilet seat? Slow close seats use hydraulic hinges to allow the seat to gracefully fall into the closed position with only a gentle tap. A true bathroom luxury item for a very affordable price.

Slow close toilet seats also provide other extremely useful bathroom benefits. They are quieter, safer and more hygienic compared to standard seats, and are just as easy to install!

All of our toilet seats are manufactured to the highest quality standards, and are constructed from either toughened thermoset plastic or durable MDF with wood veneer. With a toilet seat from MBD Bathrooms, you'll get a dependable bathroom mainstay that will last for years to come.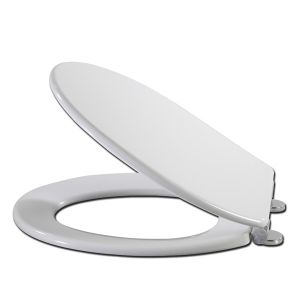 Designer Radiators by Home of Ultra
Bathrooms are notoriously difficult to keep warm, so purchasing a radiator is essential to keep your bathroom comfortable through the cold winter months. We supply the full range of designerradiators from Home of Ultra, the UK experts in bathroom heating technology. The Ultra name has become synonymous with value for money and extreme durability, as well as their elegantly eye-catching designs which range from classic simplicity to modern sophistication. So whether you prefer the traditional or the contemporary bathroom look, you won't have to put up with a cold and unpleasant bathroom – we'll have a radiator that's perfect for you.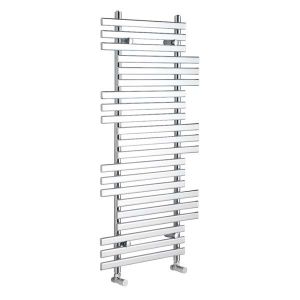 Shower Enclosures - Bespoke Shower Enclosures
Though it is the bathtub that gives the bathroom its name, showers are increasingly replacing the humble bath in bathrooms across the UK. It's not without reason – quicker, easier and more efficient, nothing beats a shower for intense reinvigoration.
Shower enclosures nowadays come in many different shapes and sizes to suit all bathrooms and all purposes. From the standard
alcove or corner enclosures
to space-saving
quadrant enclosures
, stylish
D-shape enclosures
, wet-room style
walk in enclosures
and many more – we supply them all.
Our choice is enormous, and we stock enclosures from a range of reputable companies, but if you still can't see what you need then why not consider our bespoke shower enclosure service? If you're having trouble finding an enclosure to fit into an unusual space such as a loft with a sloping roof or a wide alcove, then
click here
for more information or call us today for friendly advice. We'll help tame your awkward bathroom nuances with something functional, beautiful and entirely one-of-a-kind.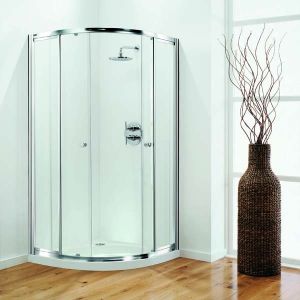 Steam Cabins - Shower Steam Enclosures
Are you the kind of person that really enjoys their bathroom - a long-hot-soak-in-the-bath-with-candles kind of person? Are you looking for the ultimate in bathroom pampering? Then look no further than an Aqualux Shower Steam Enclosure. Using a combination of a traditional shower with multiple steam-producing jets, one session in anAqualux Shower Steam Enclosure can help you achieve bathroom nirvana in no time.

With the benefits of massage and hydrotherapy, and the most relaxing and unique showering experience imaginable, Aqualux Steam Cabins really have to be experienced to be believed. We supply four varieties of steam cabin, ranging from four to six steam jets and with a wealth of extra features to turn your bathroom into an all-in-one sauna, health spa and meditation chamber.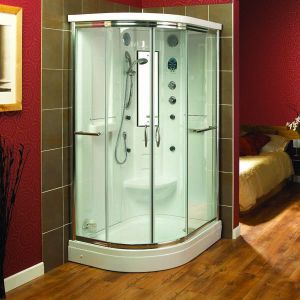 History of the Bathroom - Toilets
We are all born with a natural instinct to keep ourselves and our living area clean. Nowadays, with our clean and convenient modern bathrooms, our personal hygiene routines are simple and enjoyable affairs. But even thousands of years before the discovery of germs and bacteria which flourish in dirty conditions, humans have naturally tended towards at least a basic level of cleanliness. Obviously a major factor in a clean environment is the disposal of natural waste, and with this being a trait common to all living things, our prehistoric ancestors quickly devised ways of dealing with their own bodily waste.

In the earliest days of human existence, most waste disposal took place outside – far away from the relative cleanliness of their living areas. As far back as the 3rd millennium B.C., however, the foundations for the modern bathroom toilet were already beginning to be put in place. Some civilisations had complicated plumbing systems and sewers of a relatively modern nature, and the Mohenjo-Daro peoples had toilets built into the outside walls of dwellings.

The ancient Romans gave us, amongst many other things, the prototype of the modern toilet and plumbing system. The toilets themselves tended to be fairly basic in construction – a long wooden bench perforated with holes was typical – but they were built directly over huge clay pipes which efficiently carried waste, and by proxy germs and odour, far away from towns and living areas. Not exactly up to the standards of our bathrooms today, but it was certainly very advanced for the time. Roman toilets also have the distinction of being available for large proportions of the community to use; the toilets of previous civilisations would have been intended only for the very wealthy.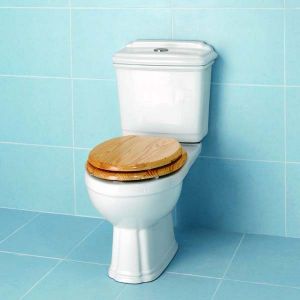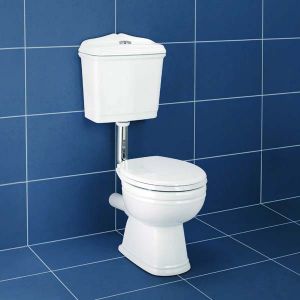 People made do with systems similar or more basic than these for many, many years. The modern flush toilet that we take for granted today was, at the time of its mass introduction, perhaps the biggest revolution in bathrooms through the whole of human history. The journey to bathroom convenience was not an easy one, however, and the flush toilet has a long and chequered history, with many great people turning their hand to the idea before the deceptively simple modern design was settled on.

The story begins in the late 1500s, when John Harrington, a poet and godson to Queen Elizabeth I, invented a functional flushing toilet and installed it in the Queen's palace. Sadly for Harrington, the idea never caught on and was seen as a somewhat ridiculous bathroom novelty. If that wasn't enough of a disappointment for him, his name has been reduced to all but a footnote in the popular version of toilet history in favour of the ludicrously monikered Thomas Crapper.

But despite his usurping of the title 'Inventor of the Flushing Toilet', we shouldn't underestimate Crapper's contribution to the modern bathroom. His improvements to the flushing toilet were head and shoulders above other attempts – Thomas Twyford, for example, first began manufacturing toilets in the now ubiquitous vitreous china material, and US inventors James Henry and William Campbell designed and patented a toilet that flushed using a plunging mechanism.


Obviously, there was a reason for this sudden interest in redesigning the toilet. The industrial revolution had brought many people to cities looking for work, and with the increasingly cramped and unsanitary conditions, disease could spread easily without a clean and effective waste disposal system. Thomas Crapper's genius was to introduce a 'u-bend' into the flush toilet design, which effectively prevented odours entering homes and, because it didn't jam like previous systems, did not require an overflow. The result was a massive uptake for this revolutionary toilet design, and subsequently the democratisation of the flush toilet and the emergence of the modern bathroom.

So next time you visit the bathroom, remember that the humble toilet bowl hides a long and varied history!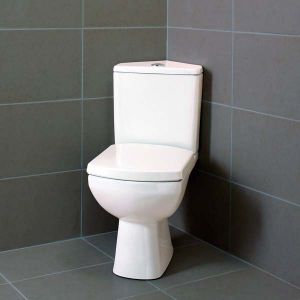 We have many years of experience in bathroom trading that translates into cheaper prices on top-quality products for our customers. Take a look around our site today and see for yourself the enormous choice on offer – we have everything you need to turn that boring, ageing, characterless bathroom into a haven of relaxation that reflects your own tastes and personality. Your bathroom deserves bathroom quality.


The toilet - that perennial bathroom feature; often used but difficult to love. But why shouldn't you give your toilet the bathroom recognition it deserves? A toilet is as much a feature of your bathroom as your bath, shower or sink, so it pays to make sure that you purchase a top quality toilet that compliments your bathroom and attracts bathroom compliments.

At MBD Bathrooms, we can offer toilets to suit any bathroom. We stock traditional and modern designs, as well as corner toilets and short projection toilets to maximise space in smaller bathrooms. There really is something for everyone, and because our toilets are manufactured by Impulse, you can have the peace of mind that your toilet will stand up to years of repeated use.
It goes without saying that a toilet from MBD Bathrooms will be available at our always unbeatable online prices, so start making the most of your bathroom today and give your toilet the love it deserves!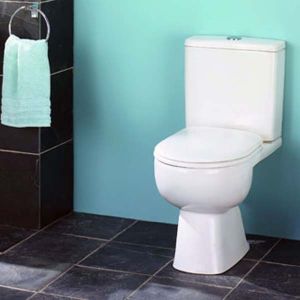 Bathroom Sinks by Impulse
Fashionable, modern chic or traditional refinement? Whatever your taste in bathroom sinks, we have a huge variety of sinks by Impulse that cover all styles but have one thing in common: timeless quality.

From classic basin and pedestal designs to space-saving options such as wall-mounted basins and corner basins, we can supply sinks for any bathroom dimensions. From counter top basins to semi-recessed basins, vanity basins and more, we can help you choose a sink that will stand out from the crowd.

Impulse sinks are factory certified to ISO 9001:2008, and are manufactured from the highest quality clay, silica and glazing available. Combine this quality with MBD Bathrooms' unmatched value, choice and service, and you have a one-stop solution for your bathroom sink needs. Order today!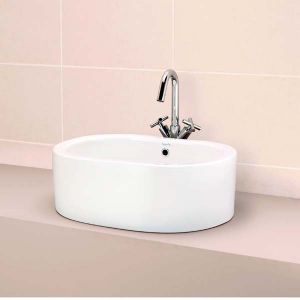 Bathroom Taps
The crowning glories of your basins and baths, a carefully considered set of bathroom taps can help your bathroom achieve its full potential.

We supply bathroom taps from hugely popular manufacturers such as Sagittarius, Mayfair Taps, Home of Ultra and Deva (now known as Methven). These companies lead the field in terms of quality and innovation, and with the variety that we offer in terms of design and style, you'll be sure to get a tap that is both durable and durably stylish.

Click here to take a look at our range of bathroom taps – mixers, single taps, traditional taps, modern taps, infra red taps, freestanding taps, wall-mounted spouts; we have them all. And because of our impressive buying power, we can offer these bathroom taps at incredible prices that won't wash out your wallet.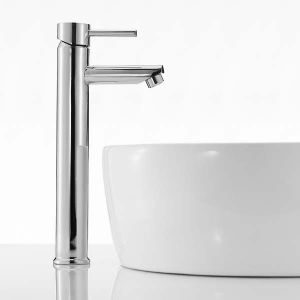 History of the Bathroom - Showers
The modern shower was patented in 1767 by William Feetham. However, it may be more accurate to describe it as 'the first recognisable precedent of the modern shower', as it was quite far removed from the totems of warmth, invigoration and convenience that we enjoy in our bathrooms today.

This design, with its wooden cubicle and hand-pumped mechanism, became surprisingly popular, partly because it saved on two things: water consumption and the need for servants. As we shall see, showering was once a labour intensive process that from its first trickle to the last drop, involved the help of many servants or slaves along with the well-to-do shower user. Servants were still needed to clean the Bathroom afterwards, but compared to the shower designs that came before Feetham's Patent Shower Bath it was a revolution in convenience.

It has to be said, however, that Feetham's shower had one significant flaw that was enough to keep the majority of bathers firmly in their baths: it used cold water. It wouldn't be until the introduction of hot, piped water in bathrooms that the shower really took off and became the bathroom staple that we recognise today.

What about the showers of the ancient world? The Greeks and Romans, as we have seen, were very fond of baths and public bathing – surely they would have hit upon the idea of showering? Well, the problem of the shower is primarily a mechanical one – in those days showers did exist, but essentially consisted of slaves pouring water over one's head. With baths being such relaxing, enjoyable communal experiences, and before the realisation that steeping yourself in stagnant water that has several generations of sweat floating around in it was a very bad thing, there really wasn't any need to go to the extra trouble that having a shower entailed.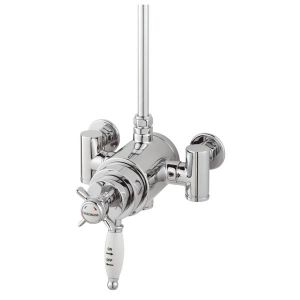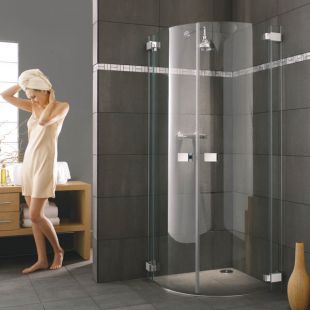 We can see isolated examples of enthusiastic showering throughout antiquity. Perhaps the earliest shower known to humankind was excavated in the Egyptian city of Akhenaten at Tel-el-Armana, and dates back to around 1350 B.C. In practice, however, this was simply a small bathroom area fitted with splash backs onto which slaves could perform their water-pouring routine. Similarly, King Nebuchadnezzar of Babylon was known to shower in a similar shower room, as he lathered himself with an unusual soap made from ash and animal fats. Evidence of more widespread showering has been discovered – people showering in fountains is depicted on some ancient Greek vases, but this practice seems to have quickly disappeared as plumbing, along with the rest of Eurasian civilisation, moved into the dark ages.

And so showering was all but forgotten until the emergence of William Feetham's model. Suprisingly, given his shower bath's apparent inadequacies, it wouldn't take too many steps until the shower became recognisable as the modern bathroom appliance that we're all familiar with.

The first major breakthrough was a focus on luxury; the 'English Regency Shower' was a bathroom behemoth. Over ten feet tall and featuring metal pipes painted to resemble bamboo, this design did away with servants altogether and instead recirculated the water (by means of a hand pump) back on to the head of the user. Of course, this meant that the lucky owner of the English Regency Shower had to get used to washing in their own dirty, recycled water. The most obvious disadvantage of the English Regency Shower, however, was its sheer size – this was not a shower that could be tucked away in the corner of a bathroom!
The 'America Virginia Stool Shower' was developed in the 1830s. This bizarre contraption was presumably designed with single-user convenience in mind, but the ridiculous amount of work involved in actually operating the shower meant that the shower user would probably have worked up enough of a sweat to make the act of showering fairly useless. An entirely wooden contraption, the Stool Shower featured a huge hand-operated lever to control the water flow, and a foot pedal that moved a scrub brush up and down the user's back. The shower user would operate these unwieldy controls whilst sitting on a revolving seat – as you can imagine, it wasn't the most comfortable of bathroom appliances.

The salad days of shower innovation was the late 1800s. The end of the 19th Century saw a sudden surge in the demand for clean and convenient bathrooms that accompanied the discovery that unclean conditions were the reason for widespread disease; this in turn led to many new and exciting bathroom inventions. Showers came to resemble, in effect if not in form, the showers that we see in modern bathrooms. Perhaps the most notable examples were the showers manufactured by J.L. Mott Iron Works, whose company catalogue bragged of the multiple shower heads and spray functions that their showers offered – something that will be familiar to anyone who has experienced the benefits of a multi-function shower head. These showers even came in modern-style compact cubicles, although all of the piping was exposed, giving them a distinctly Victorian style that is far from the sleek bathroom designs of today.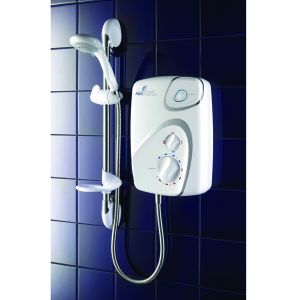 However, the J.L. Mott designs did, in many ways, form the basis for the modern cubicle shower. Their innovative cubicles were copied, adapted and expanded upon by other manufacturers, and this rapid process of development eventually led to the modern shower design. These early showers did have one major difference from modern showers though – the water had to be prepared and boiled well in advance of showering. The invention of the automatic storage water heater by Edwin Ruud in 1889 put a stop to this inconvenience, and allowed showers to be (relatively) quick and effort-free.

The showers we use in our bathrooms today have features that would have been unimaginable to our Victorian counterparts. Thermostatic valves allow the water to maintain a constant temperature, even when water is being used in other parts of the house. Power showers such as the G2000LX by Galaxy Showers provide unmatched flow rates for invigorating shower experiences. The Galaxy Aqua 4000si even features protection against limescale build-up, making them a great option for hard water areas – something that even the most affluent Victorian Londoner's wouldn't have had access to.

We've certainly come a long way from the days of freezing cold showers and overworked servants!


Wet Room Kits by Novellini
At MBD Bathrooms, we're experts in helping you achieve your perfect bathroom. But what makes a bathroom a perfect bathroom? Well, we've all got our own distinctive tastes and lifestyles, but there's a few things that define all good bathrooms: beauty, practicality and relaxation

And the easiest way to achieve a beautiful, practical and relaxing bathroom is by doing away with traditional shower cubicles and investing in a wet room.

Our wet room kits by Novellini include all you need to lay down the foundations of your wet room. Complicated installation work is made significantly easier with Novellini's wet room decking, which simply slots into your existing floor to create a gently sloping gradient that aids drainage. The kits also include an attractive linear drain and, as an optional extra, the Tilesafe tanking system. Tilesafe is an adhesive rubber membrane that can be installed in a matter of hours to ensure that your bathroom is 100% waterproof and 100% protected.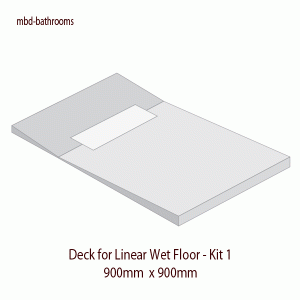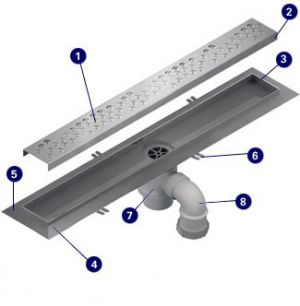 Wet Room Drains by ACO
When it comes to wet rooms, adequate drainage is extremely important to avoid potential future problems caused by water build-up and leakage. If you're investing in a spacious new wet room for your family bathroom, then you should make sure that every single component is up to standard. Drains are no exception.

ACO are amongst the top manufacturers of drainage in Europe, and their drains are used in many commercial applications. This means that they've got to be tough, and you can expect the same hard-wearing quality from ACO's bathroom drains as well. For security and quality, ACO are unbeatable.

MBD Bathrooms are proud to be able to offer ACO drainage atsome of the lowest prices around. Take a look at the ACO product range, which features linear drains in a variety of sizes, as well as compact square drains and round drains. We're sure you won't be disappointed.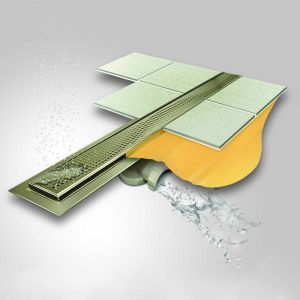 Shower/Bath Screens
For small bathrooms, the combination of a shower and a bath is an excellent way to make the most of what little space there is available. Long, hot soaks and quick, refreshing showers are readily available, so whether you're looking for a morning pick-me-up or a relaxing evening in, with a shower bath the options are always open.

The traditional means of achieving a (mostly) watertight shower/bath experience is with a shower curtain. Old, mouldy shower curtains are the bane of many bathrooms - ineffective, unattractive and difficult to clean, there really is no reason to put up with these obsolete bathroom hindrances.

A shower/bath screen is superior to a shower curtain in every imaginable way. As well as simply being more aesthetically appealing, they also provide a tighter seal (making waterlogged floors a thing of the past) are easier to clean and less prone to mould.

We have many designs of shower/bath screens available by industry-leading companies such as Lakes, Aqualux and Twyfords.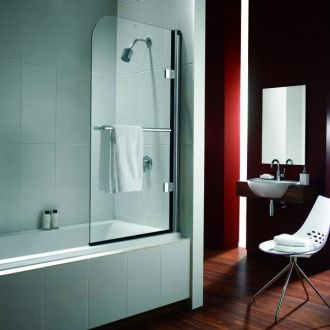 If you require any more information on bathroom and bath products then please get in touch.